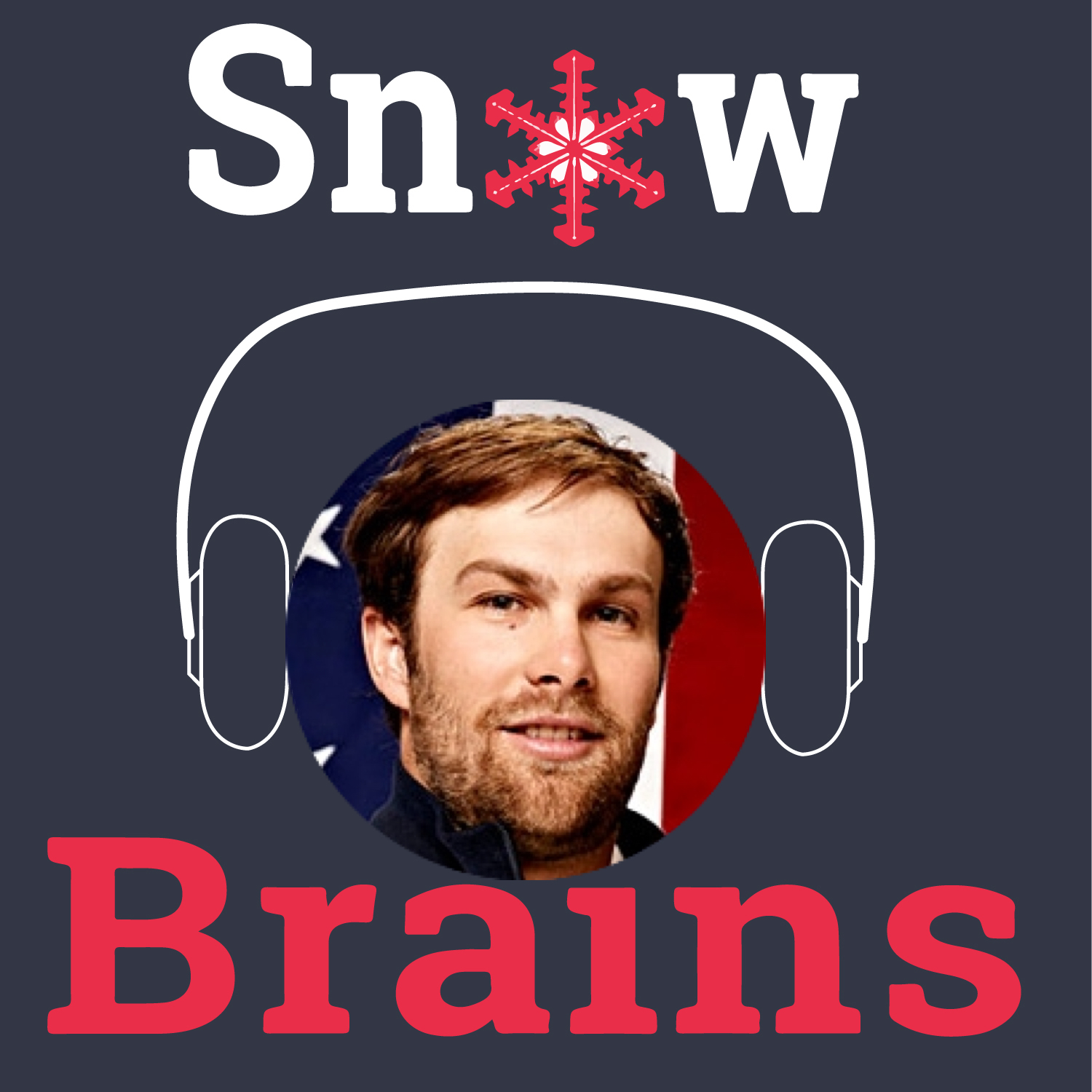 "The one simple thing that I do [to get into the right mindset before a race] is 10 seconds before I go, when I'm in the start gate, I always kind of hit the pause button and look out from the start… and I just give myself a little time to have perspective. I'm like, wow, I'm so lucky… it always makes me smile, which I think also triggers something in my mind."

– Travis Ganong
My guest today is Travis Ganong. Travis is a badass World Cup & Olympic ski racer who just got third place in Super G in Colorado this month.
Travis made the US Ski Team at age 15
He's been ski racing in the World Cup since 2009
He's won 2 World Cup Downhill Races
Travis was the 1st American male ever to win Germany's Garmisch downhill
Travis has podiumed 4 times in World Cup Downhill
He's had 38 Top-10 finishes on the World Cup
He got 5th place in Downhill at the 2014 Sochi Russia Olympics
Travis was 9th overall in World Cup Downhill in 2014
He won 2 US Championship Titles in Downhill and 1 in US Championship Title Super G
And even more impressive to me, Travis is an insanely talented Freeskier who was already been in Warren Miller and TGR ski movies. I've freeskied with Travis including Palisades Tahoe's legendary Chimney and the guy absolutely rips.
Legendary freeskier Cody Townsend said this about Travis' freeskiing:
"If Travis hung up his downhill boards today, he'd be one of the better big-mountain skiers in the world tomorrow.  Even though backcountry big-mountain skiing takes a high level of experience and mental preparation, Travis' pure physical skills on a pair of skis could put him on any film trip with any film crew."
Please enjoy!
***
This episode is brought to you by HAKUBAVALLEY, Japan:
Just under 3 hours from downtown Tokyo, at the base of the Northern Japan Alps, sits HAKUBAVALLEY, Japan's largest snow resort. Expect abundant snowfall averaging 32 feet per season, 131 trails, and 96 lifts across the Valley's 9 resorts. From gentle groomers to extreme mountain terrain, HAKUBAVALLEY has something for everyone. Visit HakubaValley.com to learn more.
Discover Japan's largest snow resort with the HAKUBAVALLEY Day Pass. Get access to 9 resorts and the Valley shuttle for under $60 (USD) a day. Or show your Epic or Epic Australia Pass to claim 5 complimentary and consecutive days to HAKUBAVALLEY with no blackout dates. Explore untracked powder and world-class terrain at HAKUBAVALLEY, Japan.
With 9 resorts and 131 trails, HAKUBAVALLEY has something for everyone! Discover deep powder, big mountain terrain, and snow activities for the whole family at Japan's largest snow resort. Visit HakubaValley.com to learn more.
This episode is also brought to you by Tamarack Resort:
Nestled in the west-central mountains of Idaho, Tamarack boasts 1,100-acres of terrain, 2,800-vertical-feet, and an independent spirit and community vibe unmatched in the west.
You might come to Tamarack Resort for the views that unfold across the valley or the unspoiled terrain and vast open bowls. Maybe you'll come to uncover a place that's a little different, that's down to Earth and at home on the path less traveled. But we know you'll come back because there's a community of people at Tamarack who make you feel like you're in the right place, at the right time.
For the free-spirits that hear the call of the undiscovered and believe the future truly is boundless, Tamarack Resort is the place for you. And we can't wait to welcome you with arms wide open. Find it. Together. At TamarackIdaho.com
***
If you enjoyed this podcast, please share with friends & family, and please subscribe.
Follow SnowBrains:
Facebook: facebook.com/snowbrains
Instagram: instagram.com/snowbrains
Twitter: twitter.com/snowbrains
Buy SnowBrains gear: SnowBrains.com/shop/
The SnowBrains Podcast Episode #27 – Travis Ganong – Badass World Cup & Olympic Ski Racer, World-Class Freeskier

Recorded on November 20, 2021, in the Park City, UT (Miles Clark) and Lake Tahoe, CA (Travis Ganong).
This episode was edited by Jared White.
Music by Chad Crouch.
Host, producer, and creator = Miles Clark.
About The SnowBrains Podcast:
Top 17% of all podcasts
Interviews the most intelligent people in the snowsports industry and passes their fascinating knowledge to you, our listeners.
We explore skiing, snowboarding, snowsports, avalanches, technology, climate, COVID, snow science, medicine, nutrition, fitness, technique, and cutting-edge adventure with our listeners.
The SnowBrains Podcast is hosted by professional freeskier, professional mountain guide, UC Berkeley Molecular Cell Biology graduate, and the Founder & CEO of SnowBrains, Miles Clark.
The SnowBrains Podcast will be publishing new episodes with riveting guests every week this winter.
Please share with your friends and family, and please subscribe.
Download & Subscribe to "The SnowBrains Podcast":
The SnowBrains Podcast Season 1 Episodes:
The SnowBrains Podcast Season 2 Episodes:
Episode #21 | Doug Stoup – More North & South Poles Than Anyone on Earth, Pro Soccer Player, Mountain Guide, Founder Ice Axe Expeditions
Episode #22 | Bjarne Salen – Filmer of "The Fifty" w/ Cody Townsend, Hardcore Ski Mountaineer, Adventurer, Philosopher
Episode #23 | Todd Offenbacher – Comedian, Mountain Guide, Body Builder, Badass Rock Climber, TV Personality, Climbing Community Builder
Episode #24 | Scott Gaffney – Matchstick Productions Editor, Producer, Filmer, the G in Shane McConkey's G.N.A.R., Lake Tahoe Surfer, & Badass Freeskier
Episode #25 | Ingrid Backstrom – Legendary Freeskier, Fierce Competitor, Game-Changer, Ski Movie Star