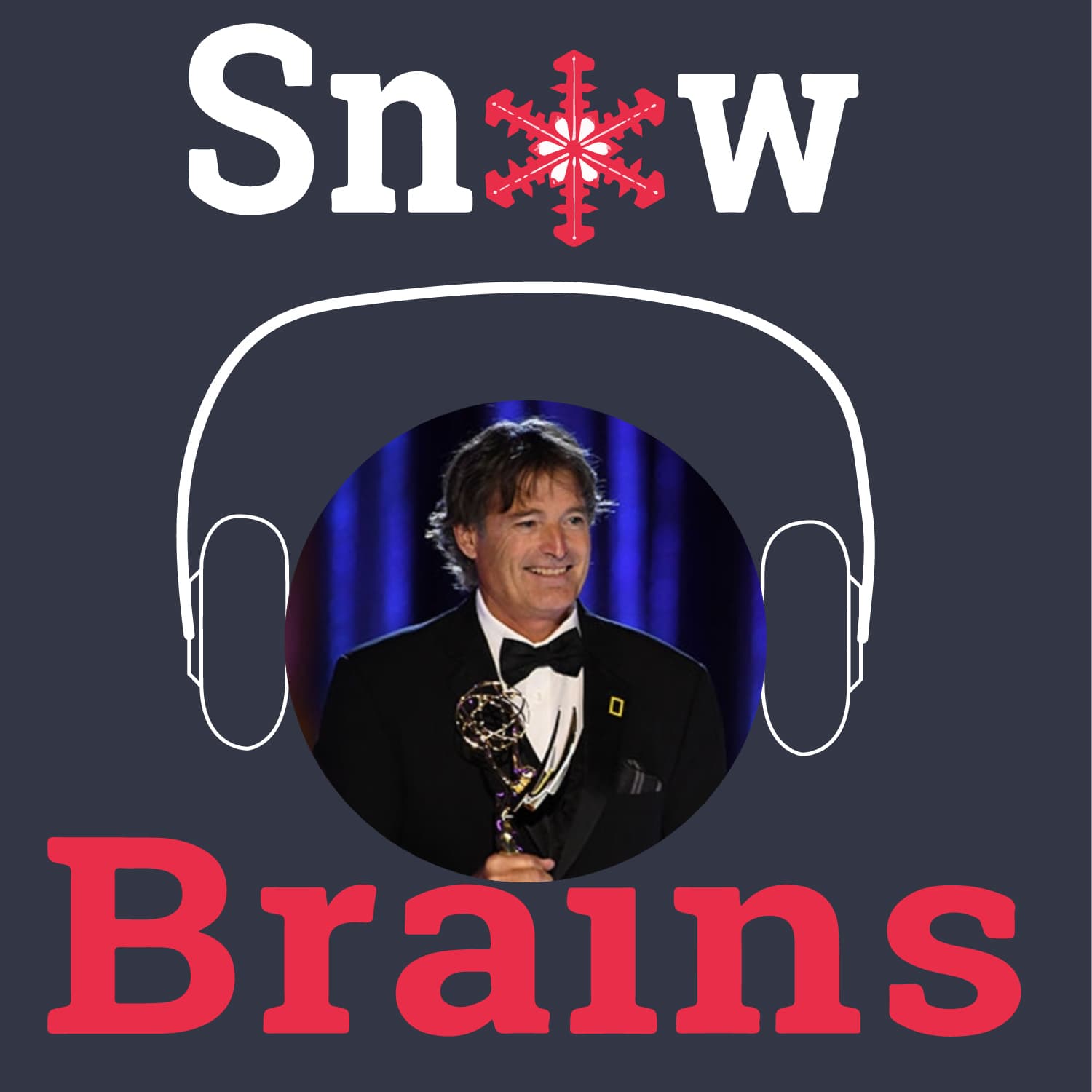 "[I made my dreams a reality] by following my heart. I can't think of another reason why it happened… Especially with skiing, I knew from a very young age I was going to be skiing was going to be my life. And I was able to keep that I didn't deviate from that and the rest falls in place if you've got a good anchor."

– Tom Day
My guest today is Tom Day:
Tom has been a filmer, director, and skier for Warren Miller ski movies every year since 1984 – that's 38 years of Warren Miller + Tom Day
Tom has been the principal filmer and director since the year 2000
Tom Day won an Emmy in 2021 for his work on Life Below Zero
Tom has worked on big Hollywood movies such as Molly's Game and Triple X
Tom was a skier in the legendary, game-changing ski movie Blizzard of Ahhhs from 1988
Tom is still such a badass freeskier that he skied the Chimney at Squaw Palisades Tahoe only two years ago at the age of 58 – Very few people have the guts to ski this line in their prime…
Tom is one of the best and smoothest skiers I've ever witnessed
Tom grew up skiing Bolton Valley in Vermont and has spent his adult life in Squaw Valley Palisades Tahoe, where he still resides
Tom's stories from behind the scenes in the ski movie world are priceless
Please enjoy!
***
This episode is brought to you by Grand Targhee Resort.
Home to the best snow in Wyoming. Delivering an average of 500 inches of snow annually, you'll find uncrowded slopes, and a unique Targhee vibe served on the daily.
With good times served daily at Grand Targhee Resort, it's time to embrace the vibe. Escape the crowds and get back to enjoying skiing and snowboarding the way it was meant to be. From our family-friendly Kids Adventure Zone and uncrowded runs to the wide-open terrain for all abilities, the big mountain feel and Western charm makes Grand Targhee a must-visit winter destination.
With over 20 feet of snowfall to date, heading to the Tetons is a must-do. We invite you to experience and be part of the Targhee Vibe at Grand Targhee Resort!
***
If you enjoyed this podcast, please share with friends & family, and please subscribe.
Follow SnowBrains:
Facebook: facebook.com/snowbrains
Instagram: instagram.com/snowbrains
Twitter: twitter.com/snowbrains
Buy SnowBrains gear: SnowBrains.com/shop/
The SnowBrains Podcast Episode #30 – Tom Day – Emmy Winning Cinematographer, 38 Years as Warren Miller Director/Filmer/Skier, "Blizzard of Aahhhs" Ski Movie Star, Smoothest Skier on Earth
Recorded on November 23, 2021, in the Jackson Hole, WY (Miles Clark) and Olympic Valley, CA (Tom Day).
This episode was edited by Jared White
Music by Chad Crouch
Host, producer, and creator = Miles Clark
About The SnowBrains Podcast:
Top 17% of all podcasts
Interviews the most intelligent people in the snowsports industry and passes their fascinating knowledge to you, our listeners.
We explore skiing, snowboarding, snowsports, avalanches, technology, climate, COVID, snow science, medicine, nutrition, fitness, technique, and cutting-edge adventure with our listeners.
The SnowBrains Podcast is hosted by professional freeskier, professional mountain guide, UC Berkeley Molecular Cell Biology graduate, and the Founder & CEO of SnowBrains, Miles Clark.
The SnowBrains Podcast will be publishing new episodes with riveting guests every week this winter.
Please share with your friends and family, and please subscribe.
Download & Subscribe to "The SnowBrains Podcast":
The SnowBrains Podcast Season 1 Episodes:
The SnowBrains Podcast Season 2 Episodes:
Episode #21 | Doug Stoup – More North & South Poles Than Anyone on Earth, Pro Soccer Player, Mountain Guide, Founder Ice Axe Expeditions
Episode #22 | Bjarne Salen – Filmer of "The Fifty" w/ Cody Townsend, Hardcore Ski Mountaineer, Adventurer, Philosopher
Episode #23 | Todd Offenbacher – Comedian, Mountain Guide, Body Builder, Badass Rock Climber, TV Personality, Climbing Community Builder
Episode #24 | Scott Gaffney – Matchstick Productions Editor, Producer, Filmer, the G in Shane McConkey's GNAR, Lake Tahoe Surfer, & Badass Freeskier
Episode #25 | Ingrid Backstrom – Legendary Freeskier, Fierce Competitor, Game-Changer, Ski Movie Star
Episode #26 | Dr. Ethan Greene, Director of CAIC – Why Did the USA Have the Most Avalanche Deaths in History Last Season?
Episode #28 | Tommy Moe – Olympic Gold Medal Ski Racer, Alaska Heli-Ski Guide, Co-Founder of Tordrillo Mountain Lodge in Alaska