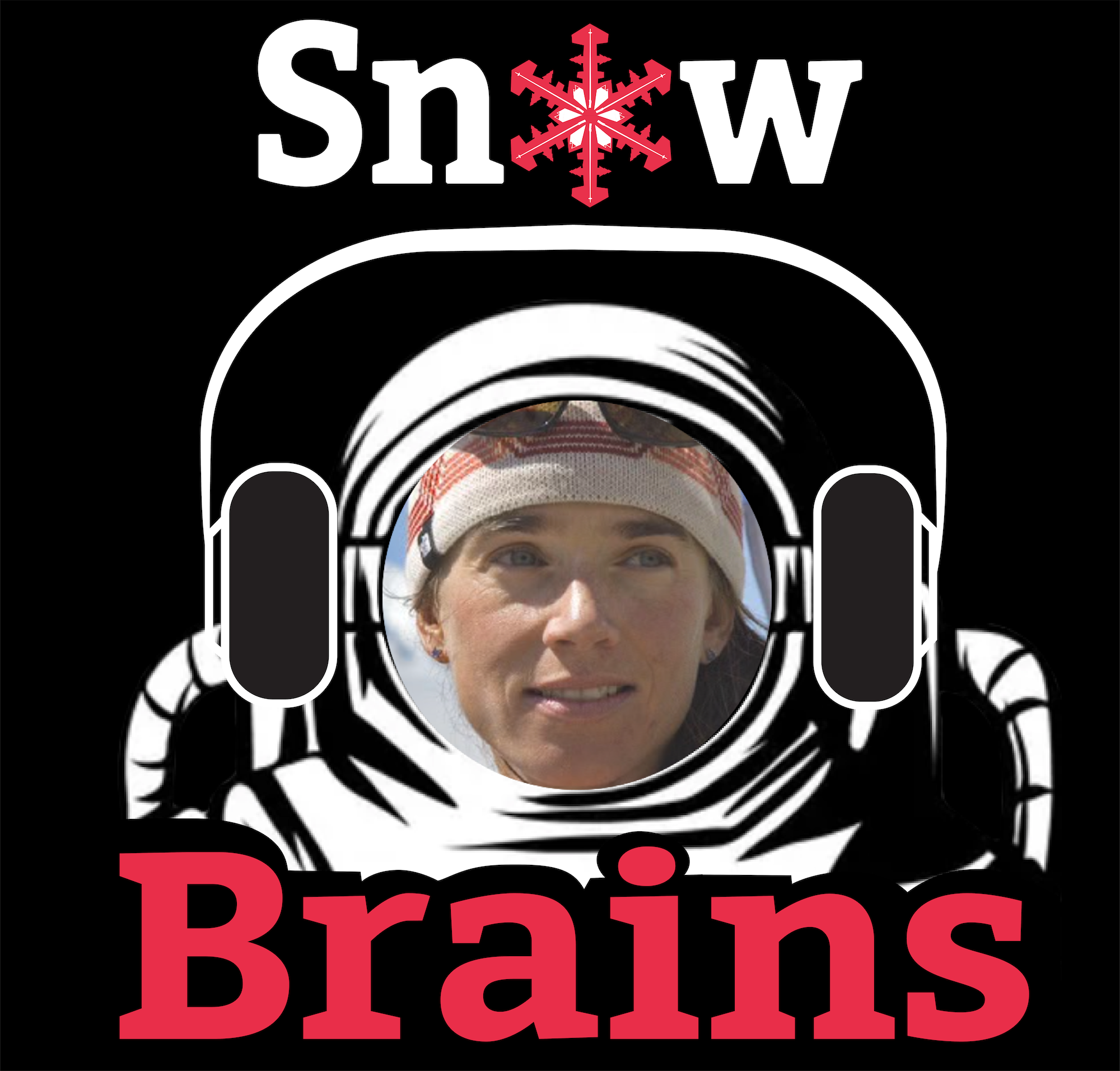 Brought to you by Gunnison Crested Butte & Alta Ski Area
My guest today is Kit DesLauriers:
Kit was the very first person to ski from each of the legendary Seven Summits – the highest peaks on every continent

She was the first woman to have won 2 consecutive World Freeskiing Champion titles in 2004 and 2005

Kit was the 2015 National Geographic Adventurer of the Year

In 2019 she was inducted into the US Ski & Snowboard Hall of Fame

Kit has been on the North Face Global Athlete Team since 2005
This episode is brought to you by Gunnison Crested Butte:
If you're looking for a heart-pounding Colorado ski trip this winter, check out Gunnison and Crested Butte. Ski Crested Butte's legendary extreme terrain for glades, bowls, chutes, and cliffs will challenge your abilities and keep you coming back for more. After the lifts close, explore the Gunnison Valley's mountain towns for unique restaurants and historic Colorado charm. Visit gunnisoncrestedbutte.com to start planning your trip!
Searching for a university? Love to ski? Check out the Mountain Sports program at Western Colorado University in Gunnison, Colorado. The Western Colorado University Mountain Sports program allows you to compete in skiing, snowboarding or other outdoor sports while getting a degree in a tight-knit, hands-on learning environment. Learn more at western.edu.
If you're a diehard skier, you've probably heard of Crested Butte, Colorado. Located deep in the heart of the Rocky Mountains at the literal end of the road, the Gunnison Valley looks like a scene in a snow globe. The extreme terrain of Crested Butte Mountain Resort has been the stuff of legend for decades. But don't take our word for it—come ski it for yourself! Learn more at gunnisoncrestedbutte.com.
This episode of the SnowBrains Podcast is brought to you by Alta Ski Area
There are few precious places in the world like Alta, an independently-owned ski area since 1938. Nestled at the top of Little Cottonwood Canyon deep in the Wasatch, Alta is a skier's-only mountain, known around the globe for its powder skiing. With an annual snowfall average of 538 inches, powder days are a way of life.
Alta Ski Area: home to one of the first ski areas to open in the United States and the birthplace of avalanche forecasting and mitigation in North America. The skiing technique, lifts, lodges, and ski gear have changed with the times, but there is a timeless spirit at Alta that remains. Perhaps it is because generations of skiers have been able to pass on their love for the mountain.
Alta Ski Area: home of the biggest average annual snowfall in the Rocky Mountains.
Please enjoy!
***
If you enjoyed this podcast, please share it with friends & family, and please subscribe.
Follow SnowBrains: SnowBrains.com
Facebook: facebook.com/snowbrains
Instagram: instagram.com/snowbrains
Twitter: twitter.com/snowbrains
Buy SnowBrains gear: SnowBrains.com/shop/
***
The SnowBrains Podcast Episode #41 – Kit DesLauriers – The 1st Person to Ski All of the "Seven Summits", National Geographic Adventurer of the Year, 2-Time Freeskiing Champion
Recorded on October 3, 2022, in the Park City, UT (Miles Clark) and Idaho (Kit DesLauriers).
This episode was edited by Jared White
Music by Chad Crouch
Host, producer, and creator = Miles Clark
About The SnowBrains Podcast:
Top 12% of all podcasts
Interviews the most intelligent people in the snowsports industry and passes their fascinating knowledge to you, our listeners.
We explore skiing, snowboarding, snowsports, avalanches, technology, climate, COVID, snow science, medicine, nutrition, fitness, technique, and cutting-edge adventure with our listeners.
The SnowBrains Podcast is hosted by professional freeskier, professional mountain guide, UC Berkeley Molecular Cell Biology graduate, and the Founder & CEO of SnowBrains, Miles Clark.
The SnowBrains Podcast will be publishing new episodes with riveting guests every week this winter.
Please share with your friends and family, and please subscribe.
Download & Subscribe to "The SnowBrains Podcast:"
The SnowBrains Podcast Season 1 Episodes:
The SnowBrains Podcast Season 2 Episodes:
Episode #21 | Doug Stoup – More North & South Poles Than Anyone on Earth, Pro Soccer Player, Mountain Guide, Founder Ice Axe Expeditions
Episode #22 | Bjarne Salen – Filmer of "The Fifty" w/ Cody Townsend, Hardcore Ski Mountaineer, Adventurer, Philosopher
Episode #23 | Todd Offenbacher – Comedian, Mountain Guide, Body Builder, Badass Rock Climber, TV Personality, Climbing Community Builder
Episode #24 | Scott Gaffney – Matchstick Productions Editor, Producer, Filmer, the G in Shane McConkey's GNAR, Lake Tahoe Surfer, & Badass Freeskier
Episode #25 | Ingrid Backstrom – Legendary Freeskier, Fierce Competitor, Game-Changer, Ski Movie Star
Episode #26 | Dr. Ethan Greene, Director of CAIC – Why Did the USA Have the Most Avalanche Deaths in History Last Season?
Episode #28 | Tommy Moe – Olympic Gold Medal Ski Racer, Alaska Heli-Ski Guide, Co-Founder of Tordrillo Mountain Lodge in Alaska
Episode #29 | Doug Fish – The Genius Who Created the Indy Pass, the Fastest Growing Multi-Mountain Pass on Earth With Over 80 Ski Resorts
Episode #30 | Tom Day – Emmy Winning Cinematographer, 38 Years as Warren Miller Director/Filmer/Skier, "Blizzard of Aahhhs" Ski Movie Star, Smoothest Skier on Earth
Episode #32 | Eddie Taylor – Member of "Full Circle Everest" 1st All-Black Team to Attempt 29,032′ Mt. Everest
Episode #34 | Julian Carr – 210-Foot World Record Cliff Invert, Pro Freeskier, Discrete Founder, X-Games Gold Medalist, Cirque Series Founder
Episode #35 | Lel Tone – Alaska Heli-Ski Guide for 23-Years, Winner of National Geographic's "Ultimate Survival Alaska," Ski Patroller for 28-Years, Avalanche Professional
Episode #37: Elyse Saugstad – Ski Movie Star, Freeride World Tour Champion, Skier of the Year, 3x Best Line of the Year, In ESPN's Top 50 Women in Action Sports
Episode #39 | Jonny Moseley – Olympic Gold Medalist, Skiing Pioneer, Voice of Warren Miller, TV Personality
The SnowBrains Podcast Season 3 Episodes: